Client
Jubilee Health
Insurance
Strategy
Brand Reposition
In most African countries, small and medium sized businesses (SMEs) make up for 95% of firms. They're the biggest contributors to GDP, employment opportunities and industrial development. However, most businesses hold the belief that health insurance is too expensive. Yet medical cover is essential for the owners of SMEs and their employees who need to remain healthy to stay productive.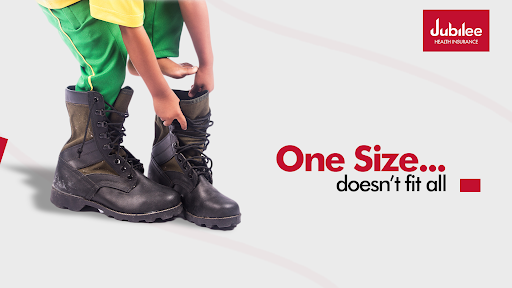 Enter 'Size Yako'
To spark interest among the Kenyan audience, we kickstarted the campaign with a catchphrase that most Kenyans would identify. 'Size Yako'. To further drive the message home, we used witty and eye-catching visuals to show that one size does not fit all, and that size matters.
We then amplified our brand storytelling by promoting and highlighting SMEs our social pages in a weekly segment called, "BIZ HIGHLIGHT OF THE WEEK".
In 3 months, the campaign delivered exceptional results